LITTLE COMPUTER PEOPLE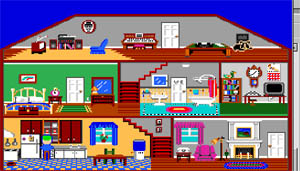 We're happy to welcome you to the Activision Little Computer
CARE AND FEEDING OF YOUR LCP OR HOW TO MAKE SURE THE PERSON INSIDE YOUR COMPUTER IS HEALTHY,HAPPY AND TOTALLY AT HOME.
Although LCP's are basically quite independent,once they move into their new home they are,in a sense,living in your world. So they will need help in certain areas.
To insure that your LCP is healthy,see that he always has food and water. (The dog also needs food.) Both hunger and dehydration can make LCP's sick. They generally turn green and lie in bed when they are sick.
Also,because they tend to be quite active,they should not be allowed to sleep too much. They would much rather have your attention.
CARING FOR PHYSICAL NEEDS:
[CTRL] F - Food is delivered to his front door.

[CTRL] W - Fills the water tank. Each time you press W,approximately one glass of water is added to the tank.

[CTRL] A - Rings the alarm clock.

[CTRL] D - Leaves dog food at the front door. LCP will do the rest.
CARING FOR EMOTIONAL NEEDS:
Addressing the physical needs of your LCP is relatively easy. To know if he needs food or water,you simply look to see if his supply is running low.
Addressing emotional needs,however,takes much more sensitivity and careful study. First of all,you must be aware of his different moods. So far,we have discovered four distinct moods in the LCP: - A smiling face indicates that he is happy. He's probably getting plenty of attention.
- A neutral face means he is content. He's fine but he could be better. Try a MOOD BOOSTER.
- A sad face means he's unhappy and needs MOOD BOOSTING immediately! - A sad and green face means that he is sick. This happens when he has gone without food or water for quite a long time.
MOOD BOOSTERS
There are several ways to elevate the mood of your LCP. Studies indicate that some ways are more effective than others. And new techniques are constantly being reviewed and discovered. Please record your discoveries.

[CTRL] C - A phone call.

Many LCP's enjoy receiving phone calls-unless they are constantly interrupted to the point of irritation. We have not yet deciphered their spoken language,nor discovered with whom they chat.

[CTRL] P - Physical contact (or "petting")

We haven't found one who doesn't respond instantly to this.

[CTRL] R - Leaves a record for his stereo at the front door.

[CTRL] B - Leaves a book at the front door. NOTE: Records and books elevate your LCP's spirits only for mild cases of the blues.

PLAYING GAMES - This is one of their favourite pastimes,so naturally it makes them feel great.
RECREATION AND RELAXATION
Most LCP's are very good at entertaining themselves. They're good pianists and can play compositions from Bach to Boogie-Woogie. They also like their record collections. In fact,albums make great gifts.

We've noticed that some LCP's exercise frequently. Many seem to enjoy playing with their computers or sitting down in easy chairs with the newspaper we've provided them. You may even be able to talk them into building a fire in the fireplace.
KEYBOARD COMMUNICATION
We recently found that we can communicate quite extensively with LCP's by typing sentences using the computer keyboard. These sentences can be in the form of questions,suggestions or requests. We use them to evoke a wide range of responses and reactions from LCPs. You can do the same.

Though we are just beginning to scratch the surface,here are a couple of requests we have tried:

-Please type a letter to me.
-Please build a fire.

LCPs are especially responsive to good manners. So remember to incorporate words like "please" and "thank you" into your requests.
PLAYING GAMES
As far as we know,almost all LCPs like to play games. Each LCP has his own individual favourites,so we've listed a few of the games we've noticed occurring most frequently,along with simple instructions for playing them.

An LCP will usually allow you to make the game selection. He will knock on the glass of your TV or monitor to get your attention and ask you to select a game from the list at the top of the screen. Type in the number you want to play.